A miracle ingredient making waves in the skincare industry, retinol is the super elixir that has been proven to improve signs of aging such as the appearance of fine lines, wrinkles, and uneven skin tone. There are a lot of questions surrounding retinol in skincare, from how it works to how best to use it – so we dug deep into the undisputed anti-aging ingredient to help you understand it a little better.
What is retinol?
Known for its anti-aging properties, retinol is a form of vitamin A that can be used in skincare products such as facial creams and serums. The term can get confusing as there are several synthetic formulations of retinol in skincare products that sound similar, such as retinoic acid, retinyl palmitate, retinyl retinoate, and retinyl propionate. All these forms of retinol, including synthetic and natural derivatives of retinol, fall under the umbrella group of retinoids.
Retin-A is the prescription brand name for tretinoin, a prescription-only retinoid that also reduces signs of aging such as fine lines and wrinkles. This is usually prescribed in cases where patients have exhausted over-the-counter options. Still, skincare experts consider pure retinol to be the most effective in combating signs of aging – more than any of its derivatives.

Related: Top 5 Anti-aging Skincare Ingredients to Know about before You Turn 20
How does retinol work?
When retinol is applied to your skin, the molecule works at the epidermis and dermis layers of the skin to neutralize free radicals, stimulate collagen production, and accelerate skin cell turnover. Retinol directly increases collagen production by encouraging more basal cells at the bottom-most layer of skin to divide, sending fresh epidermal cells up to the surface.
Essentially, retinol is training your skin cells to regenerate at a much faster rate, which can require your skin to go through an 'adjustment' period for the first couple of weeks. Retinization is this very process, whereby your skin exhibits irritating effects like burning, dryness, redness, and peeling – but don't be alarmed! Over time, your skin will begin to clear and build up a steady tolerance to the retinol.
The heightened cell repair not only heals DNA damage caused by the sun and environmental stressors, but also leads to improvement in signs of aging like fine lines (or those wrinkles on your forehead!), uneven skin texture, dullness, and discoloration. Power through the initial side effects and bask in the age-defying results after three months or so.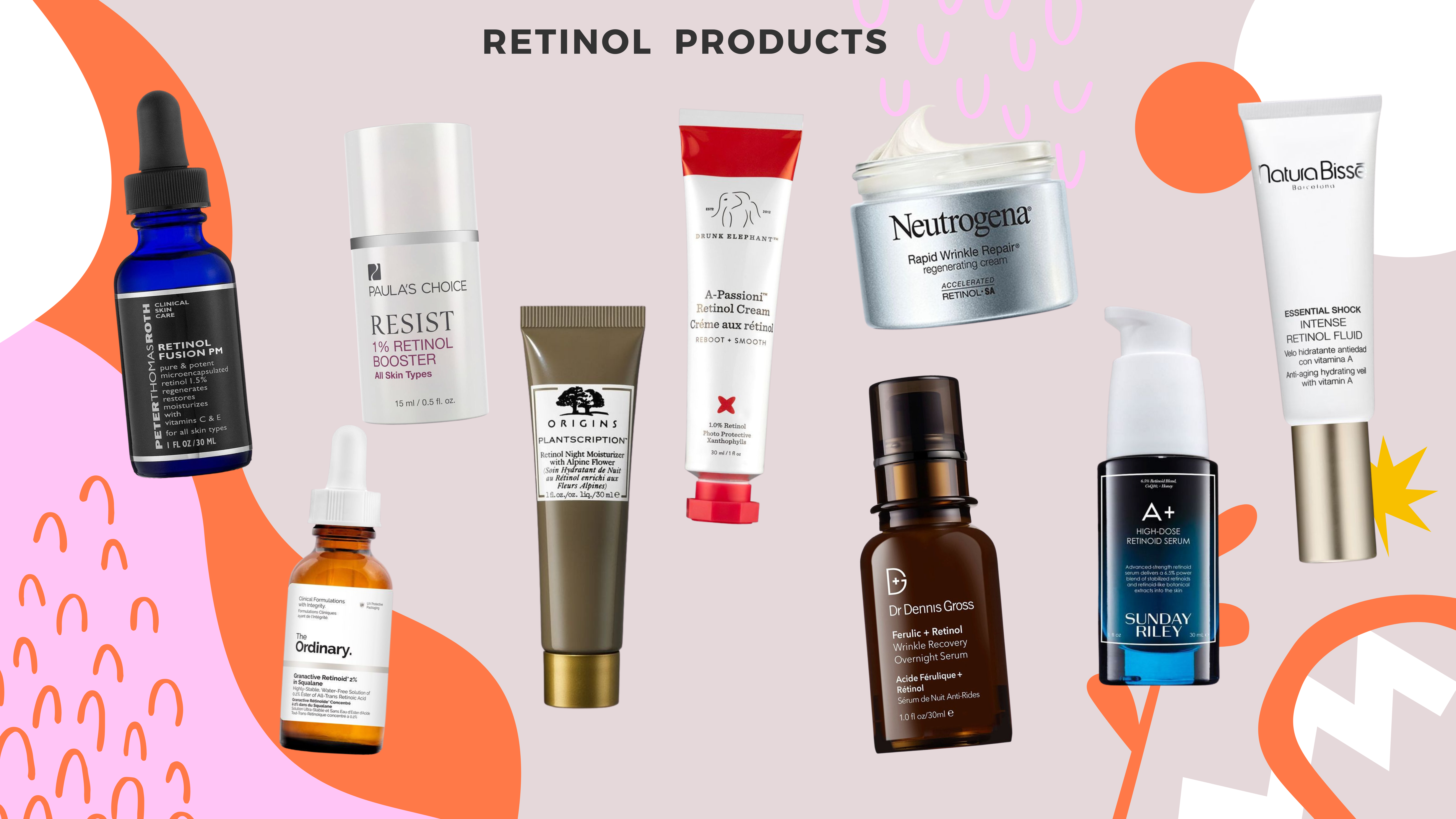 How do you apply retinol, and what are the results?
With the right concentration, application, and frequency of use, retinol is truly a miracle worker for restoring skin back to its youthful state. For first time retinol users, we advise consulting your dermatologist on best practice for your unique skin type. Usually, a weaker concentration such as 0.1% or 0.2% is recommended to start, before building up your skin's tolerance for higher concentrations like 1% or even 2%. Remember to pair retinol use with a good broad-spectrum sunscreen, as the fresh skin that rears its shiny head will be a lot more sensitive to the sun's UV rays.


How to apply retinol for the best results:
Wash face with a gentle cleanser and wait for skin to dry.
Once skin is dry, squeeze out a pea-sized dab of retinol.
Apply retinol on your forehead first using circular upward motions, then do the same for nose, cheeks, and chin.
Wait 20 minutes before applying usual serums, creams, and sunscreens.
As much as we wish it would, retinol doesn't produce instantaneous results. If you follow the above steps, noticeable anti-aging effects should start to appear after three months. What prolonged use of retinol does for the skin:
Unclog, tighten, and shrink large pores
Improve pigmentation caused by sun damage
Even out skin tone
Smooth out fine lines and wrinkles
Restore volume & prevent sagging skin from increased collagen production
Improve skin texture
Diminish appearance of acne & reduce future breakouts
When should you start using retinol, and what kind of skin is it suited for?
It's time to start getting proactive about skincare in your 20's. Research shows that starting from as early as your mid-twenties, collagen and elastin (the skin's two main structural proteins), begin to deplete at a rate of around 1% every year. In addition to incorporating antiaging ingredients such as retinol into your skincare routine, remember to use a high-SPF broad-spectrum sunscreen every day, maintain a balanced diet, and keep an active and healthy mind and body.
Retinol isn't the gentlest of skincare, so you're better off avoiding it if you suffer from skin conditions such as rosacea, eczema or psoriasis. The best alternative to retinol is Bakuchiol, a plant-based antioxidant that offers similar anti-aging benefits but is much less harsh on the skin. The downside? Not enough research to back its true efficacy, as opposed to the tried-and-tested retinol.
We hope you have a better idea of whether you're ready to invest in retinol, because there's no better time than now (during lockdown!) to start. Get ready for glowing, flawless skin that takes years off your appearance.