Maintaining a toned physique requires dedication. While there's no substitution for your exercise and nutrition plan, the latest beauty technologies can enhance results and help that hard work last.

While previously used for rehabilitation, Electronic Muscle Stimulation (EMS) has become an increasingly popular technology in the cosmetics and fitness world thanks to its ability to slim, tone and tighten trouble spots such as your thighs, abdomen or arms.

Relatively affordable and noninvasive, the latest at-home EMS devices have also been proven to enhance fat loss and reduce cellulite when used as a supplement to a regular workout and nutrition regime.
Why we chose it:
Cost-effective at-home therapy for body slimming and tightening
Non-invasive and relatively pain-free
Stimulates target muscle groups, contours the body, quickens fat loss, and improves muscle strength over time
Promotes lymphatic drainage, collagen production and better circulation
Firms facial contours and lifts sagging skin
Reduces puffiness, aids rehabilitation, eases muscle tension
What is electrotherapy?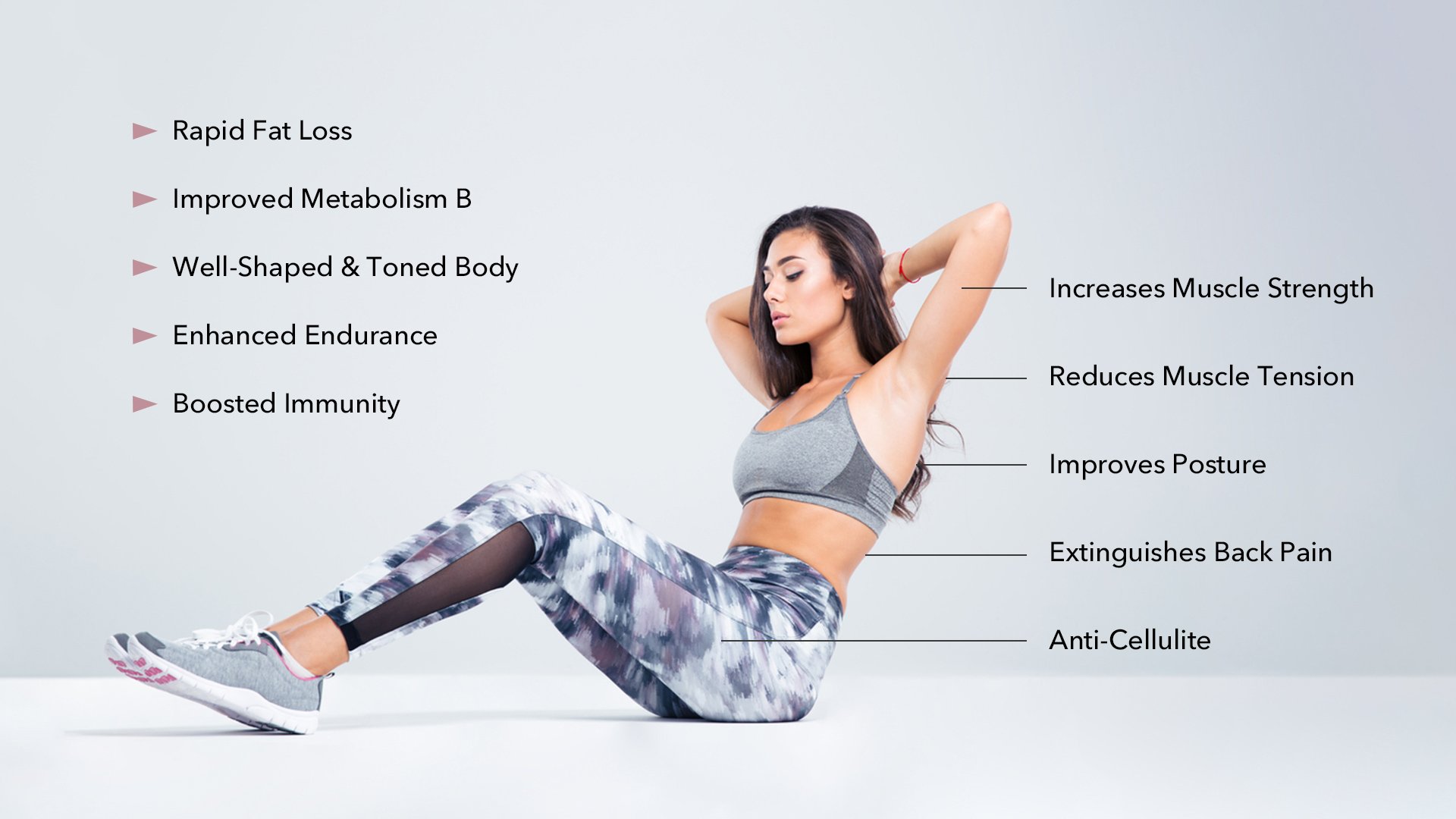 Electrotherapy covers a range of treatments that use electric stimulation to manage pain, promote tissue healing and tone muscles. It's important to choose the right form of electrotherapy to best suit your personal goals and concerns.
One of the most common treatments is TENS (Transcutaneous Electrical Nerve Stimulation). Often used by physiotherapists to ease back pain, arthritis and nerve pain, TENS stimulates the nerves and prompts the brain to produce natural painkillers.
Interferential therapy (IF) is another popular form of electrotherapy. Commonly used to relieve pain, much like TENS, IF can penetrate deeper tissues in the body because it uses a higher frequency. This method is best for deep-rooted circulatory and muscular disorders, edema (excess fluid trapped in your tissues) and joint injuries.
If you're hoping to lift and tighten your face, microcurrent is the preferred approach. This technology is best for toning the muscles of the face for a tighter jawline, reduced eye bags and improved elasticity.
An excellent complement to microcurrent, EMS focuses on stimulating your muscle fibres, making it the best choice for those who would like to strengthen, contour and slim the body.
How does EMS work?
EMS uses electrical impulses that stimulate the nerves and engage muscle fibres. The device mimics the brain: in order to activate a muscle, the brain sends 'shocks' to the neurons in the muscle group. These currents cause the muscles to expand and contract, just like they might during usual exercise.
The 'workout' tightens, tones and strengthens your muscles while increasing production of ATP (Adenosine Triphosphate), the main chemical energy source for cellular and muscular functions ­– essential for skin renewal, repair and firmness. Over time, consistent use of EMS can provide a more lean, contoured shape and reduced appearance of cellulite.
As added benefits, EMS boosts blood circulation, lymphatic drainage, and cellular metabolism and aids fat loss as a result. Though EMS is more often applied on larger body parts, such as your thighs and abdomen, you can also use it on the face. When applied to facial muscles, EMS lifts, firms and contours muscles, which are attached to your skin. This provides a visible lift, reduces sagging and enhances elasticity.
Thanks to its ability to activate muscles, EMS has been long used in physical therapy to help people recover from surgery, pain and rehabilitate injuries. In recent years, EMS devices crossed over into the realm of cosmetics and fitness, commonly used as a way to increase the intensity and efficiency of a strength-training routine.
During EMS workouts, you typically wear a futuristic vest or shorts with attached electrodes then perform a series of exercises while the technology sends electrical impulses to different muscles. This is said to build muscle faster, which increases metabolism and more efficiently burns fat.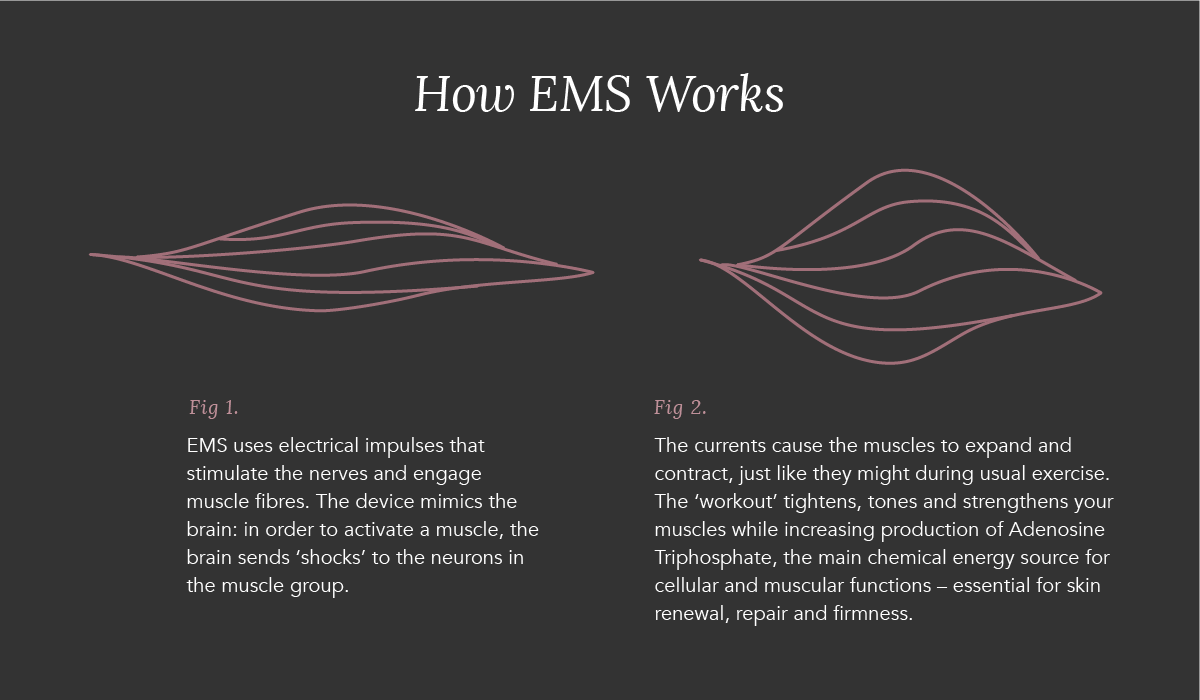 Microcurrent versus EMS
Although they're both types of electrotherapy, EMS and microcurrent differ. EMS provides deeper muscle stimulation than microcurrent technology, making it a preferred choice for contouring and slimming larger body parts such as your thighs, abdomen, buttocks, arms and chest.
Microcurrent and EMS are both effective on the face, however the current range of microcurrent facial devices are more suitable for smaller surface areas, such as cheekbones, jawline and eyes. For the eye area and forehead, in particular, microcurrent is more effective.
Both methods address muscle strength and tone – something that radiofrequency (RF) and high-intensity focused ultrasound (HIFU) don't do. However, RF and HIFU penetrate deep beneath the skin to stimulate collagen production. As such, EMS is a great complementary therapy that can be used with microcurrent, HIFU or RF.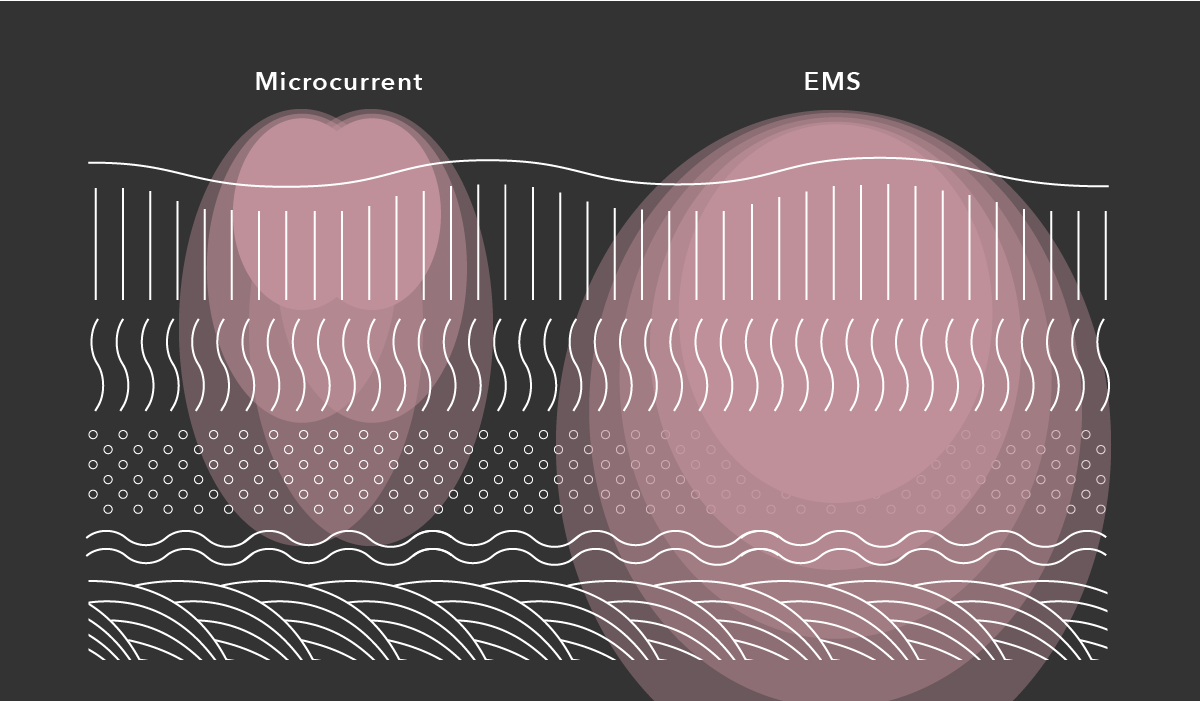 Related: Overall of all Anti-aging Beauty Treatments
A few more questions
Who is EMS best for? If you're looking for a slimming and muscle toning remedy to enhance your workout routine, EMS is a top technology.
What about for face? You can also use EMS on your face. The technology is effective for facial muscle stimulation, which in turns lifts your skin and improves tightens. However, we'd recommend microcurrent for delicate areas like your eyes.
Any added benefits? Regular EMS sessions will strengthen your muscle, tone your physique, lift your face and improve cellular metabolism. In the long run, EMS can aid weight loss, but it is not a substitute for exercise.
Does it require any downtime? No. Mild skin irritation could potentially occur if you're particularly sensitive or the settings are too high. However, there should be no downtime if you're using the device correctly.
Does it hurt? EMS shouldn't hurt. You will feel a tingling sensation and some muscle contraction. Most device provide controls so you can increase or decrease the electrical intensity.
Do results last? Paired with a healthy lifestyle and regular exercise, results will last with consistent use.
How long should I do it? Most at-home EMS devices can be used several times a week, if not daily. Each session usually takes about 5 to 10 mins depending on the area. Smaller areas, like the jawline would take around 5 minutes, while larger areas like inner thighs or abdomen might take 10 minutes.
What are other common uses of EMS? The technology is often used during workouts to strengthen and tone muscles. In this case, you'll likely wear a bodysuit or muscle pads equipped with electrodes to stimulate muscle fibres.
Any other tip? Both EMS slimming and facial devices are best used in conjunction with creams, to massage and hydrate the skin as you wake up the muscles.
Can I use EMS with other treatments? Yes! EMS is a great complementary treatment that can be used in conjunction with microcurrent, RF, HIFU, and more.
Try EMS at Home
Whether you're after an EMS facial or a toning device for the whole body, at-home machines have become increasingly effective and affordable.
For body treatments, one option to consider is Attibe's ThinBe – Mid-Frequency Slimming Device, a multi-purpose handheld cordless body care device that can generate the same effect as 150 sit-ups in 10 minutes.
For those seeking EMS as an exercise tool to strengthen and tone larger areas, look for body suits and pads such as StimaWell, Body X, Maxell and Sixpad.