A noninvasive and affordable beauty technique, kneading provides a professional-level massage anywhere, anytime. Whether you're relaxing at home, traveling or simply on your lunch break, this easy-to-use treatment offers countless benefits, such as improved lymphatic drainage, better blood circulation, muscle relief, facial contouring and reduced inflammation.
Why we chose it
Jump-starts lymphatic drainage, improves circulation
Tightens, contours and brightens complexion
Stimulates muscles, tones and reduces stress
Improves skin elasticity, stimulates cell regeneration
Reduces eye bags and dark circles
Cost-effective, safe and easy to use
What is kneading?
Falling under the wider category of petrissage – a massage technique that lifts and rolls tissue – kneading is a centuries-old style that's known for its muscle, lymphatic and vascular benefits. Until recently, you had to visit a salon for a highly effective kneading massage but, these days, you can do it yourself thanks to a wide range of compact at-home devices.
Essentially, these devices apply varying degrees of pressure on the face or body through circular motions – just like a beautician would at the spa. Like a wake-up call for your muscles and bodily tissues, the movements improve circulation while simultaneously encouraging the lymphatic system to flush out toxins, waste and excess fluid. This combination of stimuli subsequently brightens the appearance of your skin for a natural glow.
Kneading can be all over the body but it is particularly effective on reducing puffy eyes and dark circles. When used on the eyes, roller devices gently lift the brows, relax the muscles, stimulate the lymph glands and repair tissue for a brighter, healthier-looking eye area.
When used on the face, kneading manipulates the muscles and improves blood circulation, which leads to a more radiant and toned appearance. Many kneading devices feature a V-shape to help lift and contour your face when used with upward motions that traces your natural contours. To maximize the effects of beauty products, kneading can be paired with hydrating serums like hyaluronic acid. The massaging motion helps the product to more deeply penetrate skin for improved absorption.
Elsewhere on the body, kneading stimulates and tones muscles, promotes lymphatic drainage, and leaves skin looking firmer, tighter and more contoured.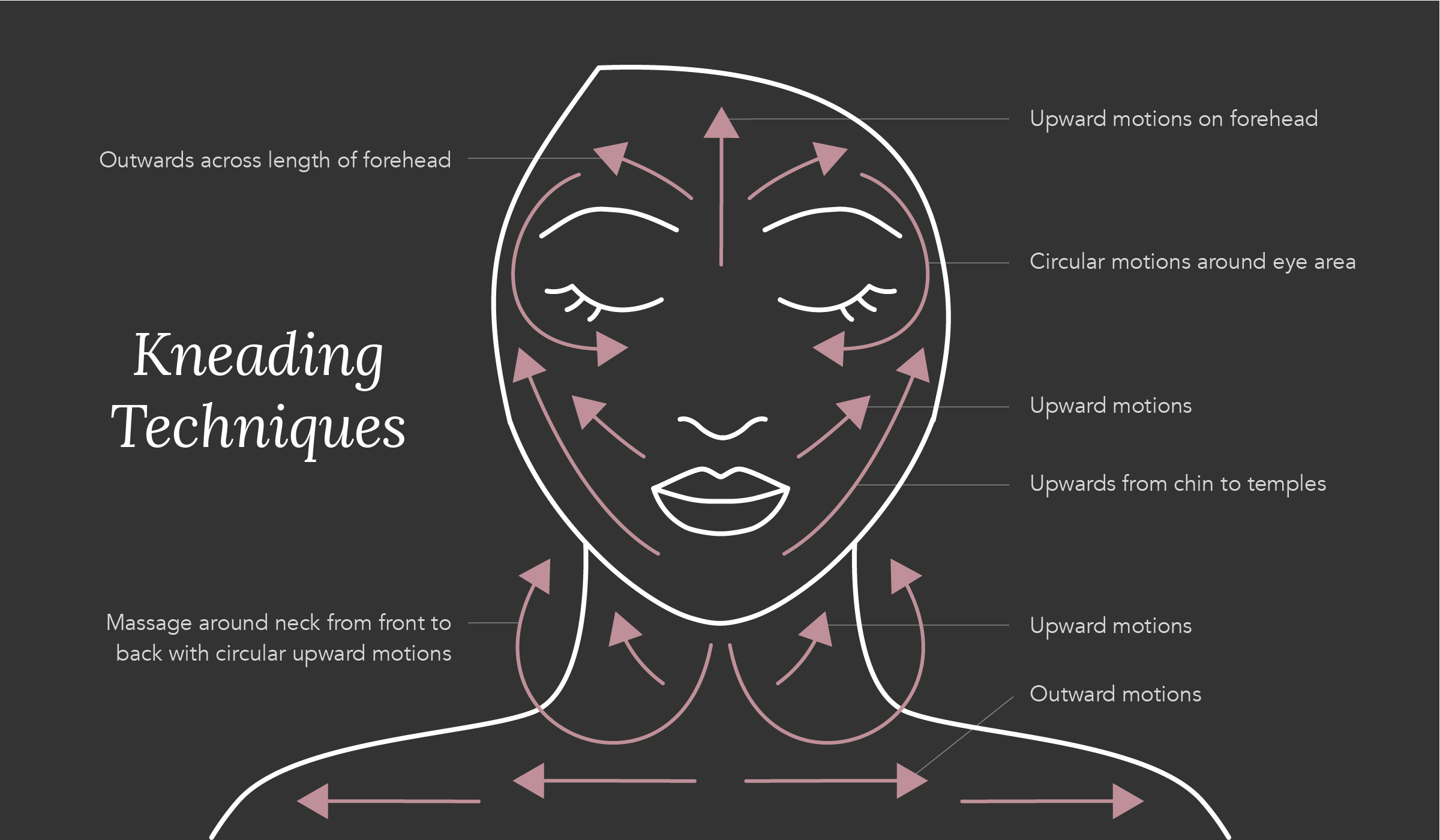 Related: Overall of all Anti-aging Beauty Treatments
Different techniques, different benefits
Depending on your personal goals, some types of kneading massage techniques are more suitable than others. Here are a few of the most common types:
Petrissage
Petrissage (derived from a French word that means 'to knead') uses a series of motions such as kneading, pinching, wringing, rolling, pressing and more. During a petrissage massage, these slow strokes are performed in circular direction from the heart outward, pressing tissues against the underlying bones and tissues.
By alternating between stimulating and relaxing the tissues, petrissage is highly effective for boosting blood circulation. In turn, the influx of oxygen- and nutrient-rich blood makes your skin look and feel radiant. The technique also stimulates skin regeneration and cellular function, stimulates the nerves, improves muscle tone and eliminates toxins through lymphatic drainage.
Lastly, many professional therapists believe that petrissage can break down and disperse the fat stores found in connective tissues; however, there is a lack of scientific evidence supporting petrissage as a fat-loss tool.
Best for: Blood circulation, cell regeneration, brighter skin, improved muscle tone, nutrient absorption, toxin drainage
Effleurage
Effleurage, which means "to skim" in French is much lighter, consisting of continuous gliding massage strokes that stimulate muscles as a warm-up before a deep-tissue massage. The stroking movement – performed in upwards motion from the outer limbs towards the heart – increases the circulation of blood and promotes lymphatic drainage.
Best for: Relaxation, blood flow, reducing muscle tension
Lymphatic Drainage
Lymphatic drainage massage uses a gentle movement around your lymph nodes to drain waste and toxins from tissues, which will then be filtered by the lymph nodes and organs (namely, your thymus and spleen). Drainage massages are effective for combating puffy arms and legs – the most common areas where lymph fluid buildup occurs.
Best for: Treating inflammation and lymphatic buildup
Tapping
Just as the name suggests, tapping (also known as tapotement) is a very light, rhythmic technique that's administered on acupressure points with a cupped hand or the tips of the fingers. When applied via an at-home device, a roller mimics the sensation. Tapping increases local blood circulation in the treated area and has also been said to relieve pain, headaches and anxiety.
Best for: Blood circulation, relieving pain, anxiety and tension
A few more questions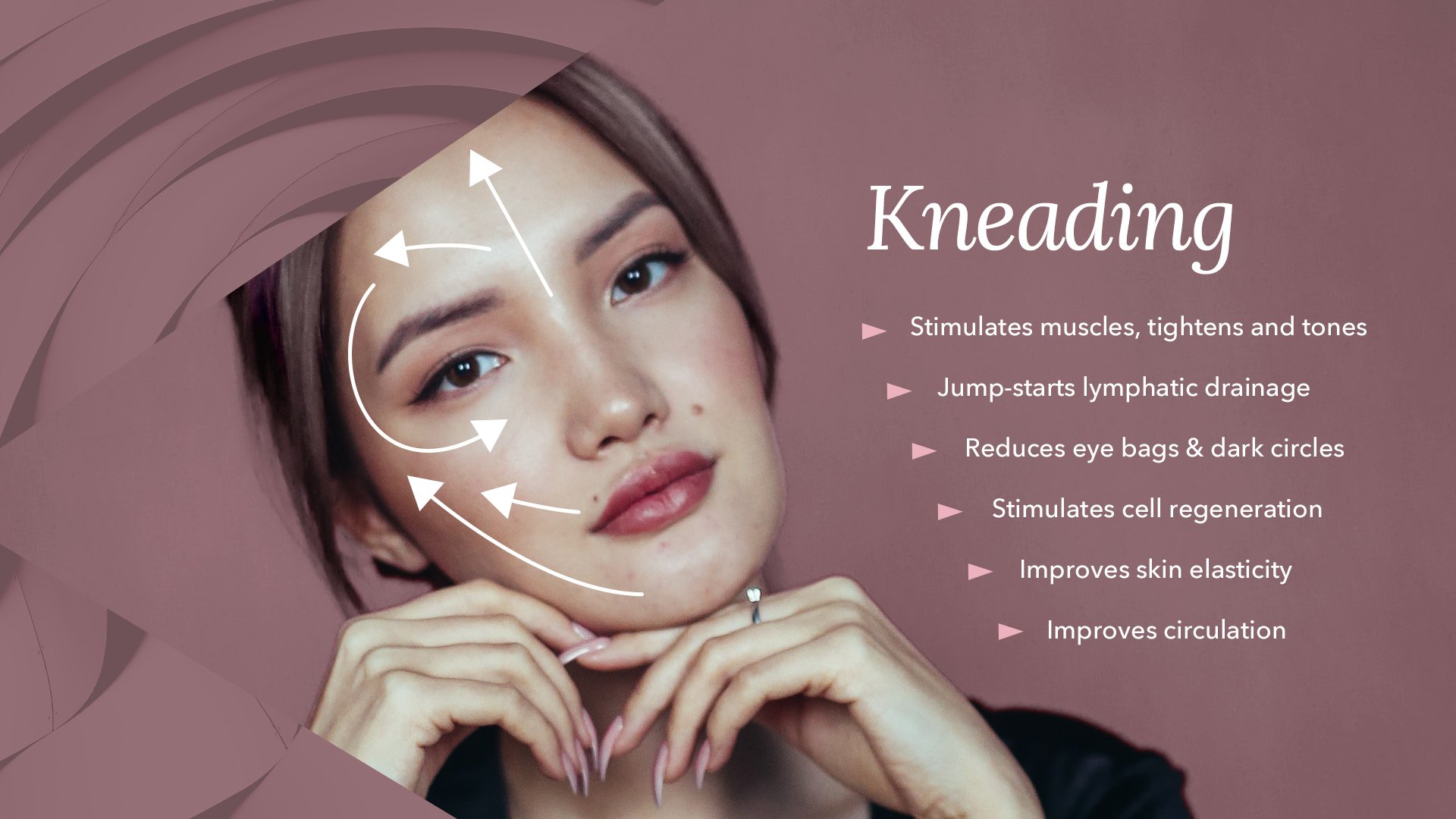 Who is kneading best for? Anyone looking for an at-home massage that's effective and targeted.
Who can use kneading devices? Kneading devices are usually compatible with all skin types, though it's best to consult your dermatologist if you have any skin conditions.
How many kneading devices are out there? Quite a few but they differ widely in terms of target areas and techniques. Some target the eye areas, while others can be used on the face, underarms, legs, waist, thighs, neck and chest.
Anything to avoid? Avoid using kneading devices directly on wounds, inflamed or sunburnt skin and any other part where you're experiencing irritation.
Does it hurt? Kneading is generally very gentle. The most intense massage style is petrissage, which squeezes and lifts the skin.
Can I use kneading technology during pregnancy? We would caution against using kneading if you're pregnant or recovering from childbirth. Please consult your doctor.
How often can I use my device? It depends on the device, however, most can be used on a daily basis.
Trying kneading at home
Kneading devices are generally compact and waterproof -- some even offer very mild microcurrent treatments to stimulate collagen production.
Here are three of the best kneading devices:
TouchBeauty Microcurrent Eye Roller is a handheld, cordless device that's powered by solar energy. The roller also uses microcurrent to treat fine lines around the mouth, relieve tired eyes, and reduce inflammation. You can use it on your eyes, jawline, as well as under your arm for a deep tissue detox massage.
ReFa's Carat Ray rollers also combine kneading massage and microcurrent effects. Depending on the model, you can use these platinum rollers on your eyes, mouth or body to tighten, lift and contour skin.
Offering a results-driven massage for the face, The/A Rose Quartz Multiangle Deep Massager replicates kneading massage techniques. Thanks to its compact size and ergonomic design, it's particularly effective in soothing jaw tensions, tighten skin around the jawline as well as the sensitive eye area. As added benefits, it also relieves muscle tension, detoxes skin and boosts blood circulation.
Replicating petrissage, all of these massaging tools can be used both on the face and body. You can simply adjust the intensity by tilting the massager at different angles.