Smooth, clear, even, radiant... Everyone aspires to have a flawless complexion. While scrubs and beauty acids can be effective in unclogging pores, it's the advanced treatments like microdermabrasion that deliver the best results.

An efficient and non-invasive anti-aging beauty treatment beloved by celebrities, microdermabrasion is one of the best options on the market for exfoliation. The skin-polishing technology also addresses several other skin concerns, from acne scars to uneven texture, clogged pores and fine lines, just to name a few.

For years, microdermabrasion treatments were reserved for dermatology offices and spas, but today you can find sophisticated handheld devices to use in the comfort of your home.
Why we chose it:
Best beauty technology for exfoliation, instantly revealing brighter and clearer skin
Noninvasive, painless and zero downtime
Effective on all skin types and skin tones
Evens out superficial pigmentation, smooths fine lines and softens mild scarring
Helps to reduce congestion and control breakouts for acne-prone skin
Stimulates blood flow and boosts collagen production
Improves skin's elasticity, tone and texture
Safe and cost-effective
What is microdermabrasion?
Don't let the term "abrasion" scare you. Microdermabrasion is actually very gentle and is only mildly uncomfortable, if at all. There are two major types: crystal and non-crystal (also called 'diamond tip').
With crystal dermabrasion, a delicate handheld wand emits microscopic crystals as you slowly move the device across the skin, delivering a gentle, polishing effect. Whereas, a non-crystal wand will use a diamond-tipped disc to softly buff the surface layer of skin. Both methods feature a vacuum-like function to suck up dead cells, oil and gunk in the process.
Microdermabrasion increases blood flow and oxygen while stimulating collagen growth thanks to the so-called 'wound effect.' When the stratum corneum – the top layer of the skin – is removed, the body interprets it as a wound. This kicks off a healing reaction and triggers skin to replace lost skin cells with new ones. As a result, microdermabrasion softens fine lines, smooths texture, reduces the appearance of brown spots, and brightens the skin after a series of treatments.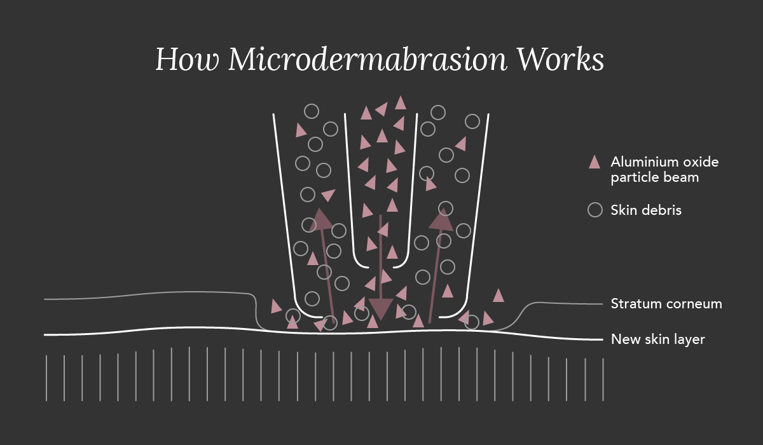 Crystal vs Diamond-Tip
Both methods of microdermabrasion are effective for exfoliation and rejuvenation. However, there are a few key differences:
| | | |
| --- | --- | --- |
| | Crystal | Diamond-Tip |
| Pros | Best for acne-prone skin, because the crystals have antibacterial qualities | Better for sensitive areas, such as the mouth and eyes, because the wand is more targeted |
| Cons | The spray can be slightly more irritating in sensitive areas like the eyes. Though uncommon, the crystals can accidentally be inhaled | The diamond-tip can sometimes transfer skin cells onto the wand, potentially spreading bacteria to other sections of the face |
Related: Overall of all Anti-aging Beauty Treatments
Other types of dermabrasion
Though microdermabrasion sounds similar to sister treatments such as hydradermabrasion and 'dermabrasion', they each offer different procedures and benefits.
Hydradermabrasion, also known as a hydrafacial, is a dermatological procedure that uses a handheld device to exfoliate the skin with pressurised water and oxygen while vacuuming up oil. The wand also injects serums – think hyaluronic acid, antioxidants and vitamins – into pores to further moisturize, brighten plump and protect.
Overall, hydradermabrasion is more effective for skin concerns like wrinkles, hyperpigmentation and sagging. However, the treatment can only be performed at spas and clinics, making it costlier and overall less convenient than microdermabrasion.
Compared with microdermabrasion and hydradermabrasion, dermabrasion is by far the most aggressive method. Performed by a dermatologist or plastic surgeon, this skin-resurfacing procedure requires the use of local or general anaesthesia, lasts up to two hours and involves longer, sometimes moderately painful recovery time. Downtime aside, it's highly effective for serious skin issues such as deep wrinkles, sun damage and scars.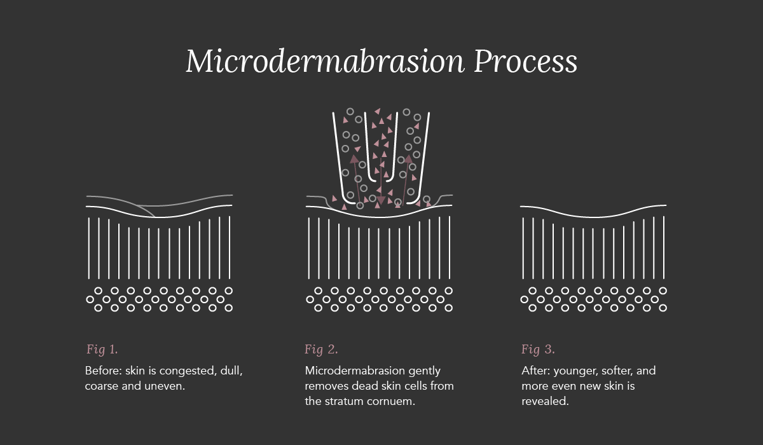 Comparing facial technologies
Microdermabrasion treats the skin only on a superficial level, which means it can't deliver the same deep-penetrating effects as HIFU, RF and LED. While it's an excellent way to exfoliate the skin, the treatment works best for surface-level concerns, such as fine lines, pigmentation and mild acne scars.
By comparison, chemical peels – another popular exfoliating procedure – target more serious skin problems, which is why they are used only in clinical settings. Chemical peels are also much more invasive, requiring a long recovery period (up to three months), painkillers and antibiotics. This would be a more effective method for those with pitted acne scars, deep wrinkles or stretch marks.
A few more questions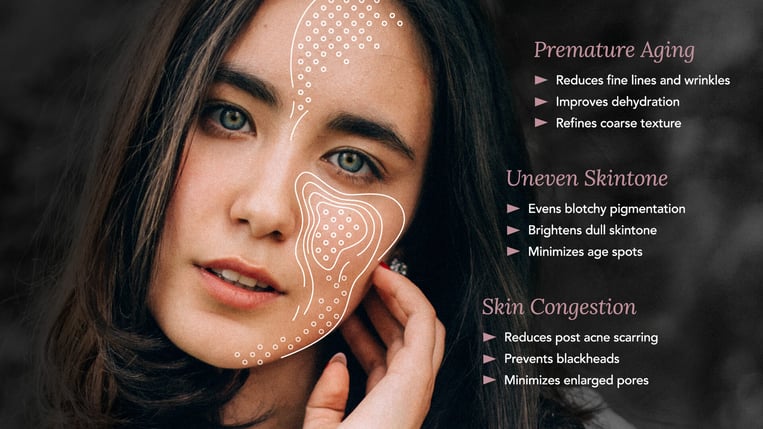 Who is microdermabrasion best for? Good news: microdermabrasion works for anyone in need of a deep, exfoliating facial. It also evens out pigmentation, softens acne scars, reduces the appearance of fine lines and brightens your complexion. If you're in the early stages of aging, this is the treatment for you.
Is it safe for sensitive skin? Glad you asked. For those with sensitive skin, m
icrodermabrasion is often the preferred alternative to chemical peels, because there are no harsh ingredients involved or downtime.
Anyone who should steer away from it? The procedure is generally not recommended if you suffer from skin conditions such as rosacea, active sunburn, herpes, or eczema. Those with open wounds, inflamed acne or broken capillaries might also want to skip microdermabrasion.
How long do treatments take? A single session at home might take around 20 to 40 minutes but it depends on the person's skin condition and the device.
What's the ideal frequency of sessions? It depends on the person's skin tolerance and condition at the time of treatment. It's generally recommended that novices perform at-home microdermabrasion once a week for a month, followed by monthly maintenance treat
ments but it's best to follow the instructions on your device and see how your skin responds.
Does it hurt? Microdermabrasion can feel a little odd, like a scratchy tugging sensation, but there's usually no major pain or discomfort.
Does it need downtime? Nope! Besides some mild redness, you can immediately resume your daily routine.
Are there potential side effects? The therapy can leave skin redder and more sensitive than usual in the immediate 24-48 hours following a treatment. If you have a big event coming up, give your skin a few days to relax.
Any post-treatment care? Avoiding direct sunlight and wearing sunscreen will help your skin recover faster. Avoid doing microdermabrasion right before your beach vacation.
What about post-treatment products? Since microdermabrasion opens pores, it's best
to follow with hydrating lotions, serums or anti-acne products to maximise product penetration.
Do results last? Exfoliation benefits are instantly visible in terms of radiance and texture. After multiple sessions, you will notice more anti-aging benefits – think improved elasticity, less pigmentation and fewer fine lines.
Try microdermabrasion at home
The main difference between a salon microdermabrasion treatment and DIY machines is that the former generally uses professional-grade devices, and can therefore deliver a deeper exfoliation. With home devices, it typically requires more sessions to see results. Here are three of our favourite at-home wands to get you started:
A crystal-based handheld device, the The/A Microdermabrasion Tool is waterproof, rechargeable and cordless. It offers multiple levels of suction intensity, warming and cooling function to prep the skin. The device comes with 4 different probes – each with different shapes and materials to address the need of different parts of the skin.
Another effective home devices is the PMD Beauty MICRODERM Classic. This professional-level handheld wand utilizes a patented spinning disc technology with a calibrated vacuum suction.
Touchbeauty's Ultrasonic Skin Scrubber also brings professional facial to the comfort of your own home. It is one of the most effective and quickest tool to remove dead skin, blackheads, whiteheads on skin.