An ultra-gentle therapy, sonic vibration is one of the easiest ways to achieve a professional-level cleanse and exfoliation in the comfort of your home. Known to open pores and remove excess dirt and oil, the technology is milder than microdermabrasion – another excellent exfoliation treatment – making it ideal for those with sensitive skin.
In addition to deep-cleansing effects, at-home sonic vibration devices also reduce the appearance of puffy eyes, dark circles, wrinkles and acne for a more radiant complexion without any downtime.
Why we chose it:
Gentle yet effective cleansing and exfoliation
Ideal for redness-prone, sensitive or mature skin
Removes oil, dirt and sebum for a clean, healthy complexion
Vibration stimulates cells to boost oxygen, circulation and collagen production
Depuffs eye area and minimises dark circles
Aids in lymphatic drainage and removes toxins
Firms and tones skin for a more supple appearance
Clarifies acne and provides antibacterial properties for fewer breakouts
Enables skincare products to penetrate deeper into the skin
Reduces appearance of fine lines, age spots and pores
No downtime required, affordable and cost-effective
Safe and easy to use
What is sonic vibration?
You may have encountered sonic devices in a medical setting, such as ultrasound machines which create sonogram pictures of a mother's womb using high-frequency sound waves. When it comes to beauty devices, sonic vibration devices are most commonly used for deep cleansing, exfoliating, reducing the appearance of eye bags, and acne control.
There are two main types of devices within the sonic vibration category: sonic and ultrasonic vibration. Both use sound waves but at different frequencies. Sonic vibration devices harness sound waves between 20 to 20,000 Hz (within the range of human hearing) and emit a relaxing humming noise. By comparison, ultrasonic devices use high-frequency sound waves above 20 kilohertz – beyond the range of human hearing.
Most at-home sonic vibration devices should be used on wet skin or with a conductive gel. The lubrication enables sound waves to pass through the skin and deep into the tissue, causing cells to vibrate. In turn, the vibration opens the pores, stimulates water molecules inside cells and flushes out impurities like oil, dirt and dead skin. The process also creates heat deep in your cells, which leads to increased collagen production, a reduced appearance of wrinkles and more elastic skin. While you'll enjoy the added anti-aging benefits, deep-cleansing and exfoliation remain the main selling points.
Those with acne concerns will also be happy to learn that ultrasonic vibration treatments have been shown to kill 99.9% of bacteria, which can prevent or minimize future breakouts. The result is cleaner, firmer and more energized skin that exudes a natural glow.
Sonic vibration also promotes the absorption of skincare products like antioxidant or anti-aging serums which is why some of the latest at-home devices, such as the TouchBeauty Ultrasonic Skin Scrubber, have dual functionalities to not only unclogs pores but also promote skin care product absorption.
Using this device on wet skin is essential: the water helps the device gently glide across the skin and also expedites the exfoliation process. Essentially, when the high-frequency vibration comes into contact with skin, it transforms water into a light mist which then helps to flush away dirt, oil and impurities.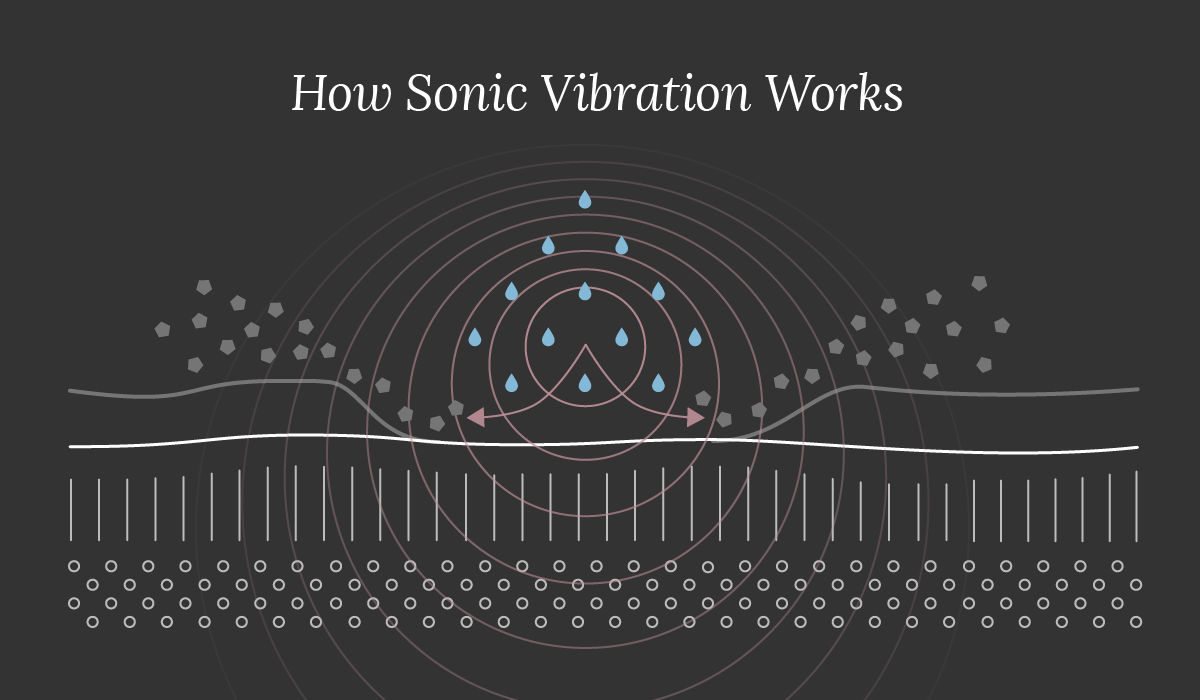 Sonic vibration vs other treatments
Sonic vibration improves skin's appearance at the cellular level, while simultaneously exfoliating and cleansing skin on a superficial level.
The closest beauty technology in terms of exfoliation is microdermabrasion. Both technologies work well on surface-level concerns, but microdermabrasion's vacuum function can irritate sensitive skin. To that end, sonic vibration is better for people with thin, mature or sensitive skin – especially those who suffer from rosacea.
Another technology that's often compared with sonic vibration is microcurrent. But these two therapies couldn't be more different –microcurrent focuses on muscle toning, while sonic vibration provides exfoliation and deep cleansing.
Instead of choosing one of the other, they're an ideal duo: Microcurrent will improve muscle tone and facial contours for a more youthful, lifted appearance. Add sonic vibration into the mix and you will scrub away oil and impurities, minimize breakouts and enhances circulation for a healthy, youthful flow.
Of course, sonic vibration is part of the same family as high-intensity focused ultrasound (HIFU) in that they both harness sound waves. But the latter is much more effective for lifting and tightening skin by heating cells in the deeper dermal and subdermal levels. The heat creates micro injuries and prompts cells to repair themselves, creating new collagen. Since HIFU targets deeper layers, the surface of the skin is not affected.
Related: Overall of all Anti-aging Beauty Treatments
A few more questions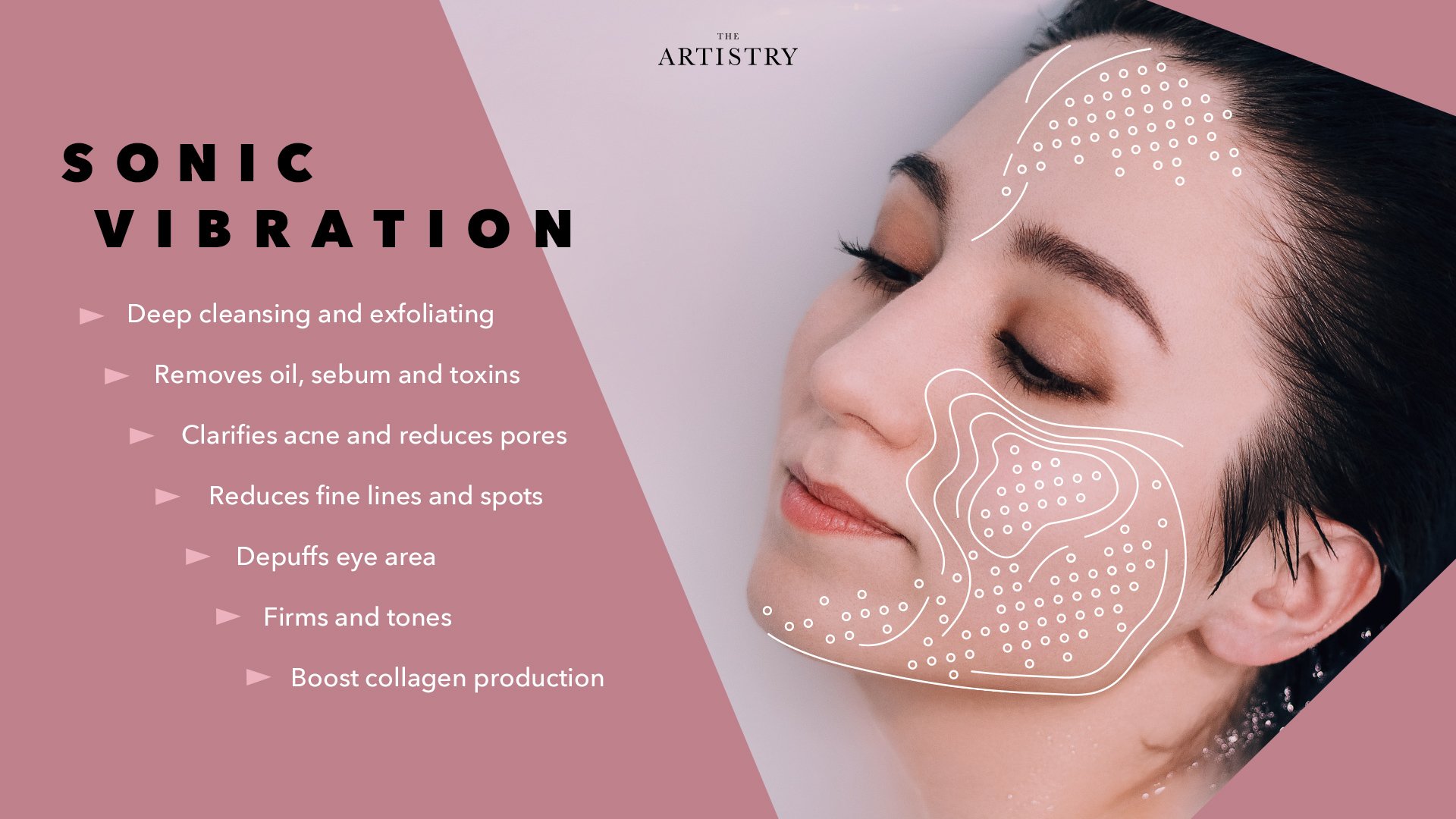 Who is sonic vibration best for? Anyone and everyone. The technique is very gentle, making it particularly beneficial for individuals prone to redness, rosacea or those with more mature skin.
Where can I use it? Sonic vibration treatments can be used anywhere on the body, but it's most common to target the face and eye area.
Any added benefits? In addition to offering gentle yet effective cleansing, sonic vibration stimulates blood circulation and lymphatic drainage, clears away toxins and enhances the performance of your skin care products. It also improves the skin's texture, shrinks pores and clears blemishes.
Is it safe? Yes, sonic vibration is considered an easy and gentle skin rejuvenation treatment. Follow the instructions on your home device, and don't apply the technology on any open wounds.
Does it hurt? Not one bit. It's one of the most gentle technologies on the market.
Any after-care I should be aware of? There's no post-treatment care to worry about. We'd recommend continuing your regular skincare creams, cleansers and antioxidant serums to maximise results. Sonic vibration will open pores and aid absorption into deeper layers of the skin.
What about downtime? None required. You can head right back to work or play after a sonic session.
How long does each session last? Most at-home sonic vibration devices are designed to be used daily. Expect to spend about 10 minutes cleansing your face, neck and eye area.
How long 'till I see results? You might notice immediate improvements to the texture and hydration of your skin. After four to six weeks of daily use, you should start seeing more dramatic results but the timeline depends on your device, age, skin type and overall skin condition.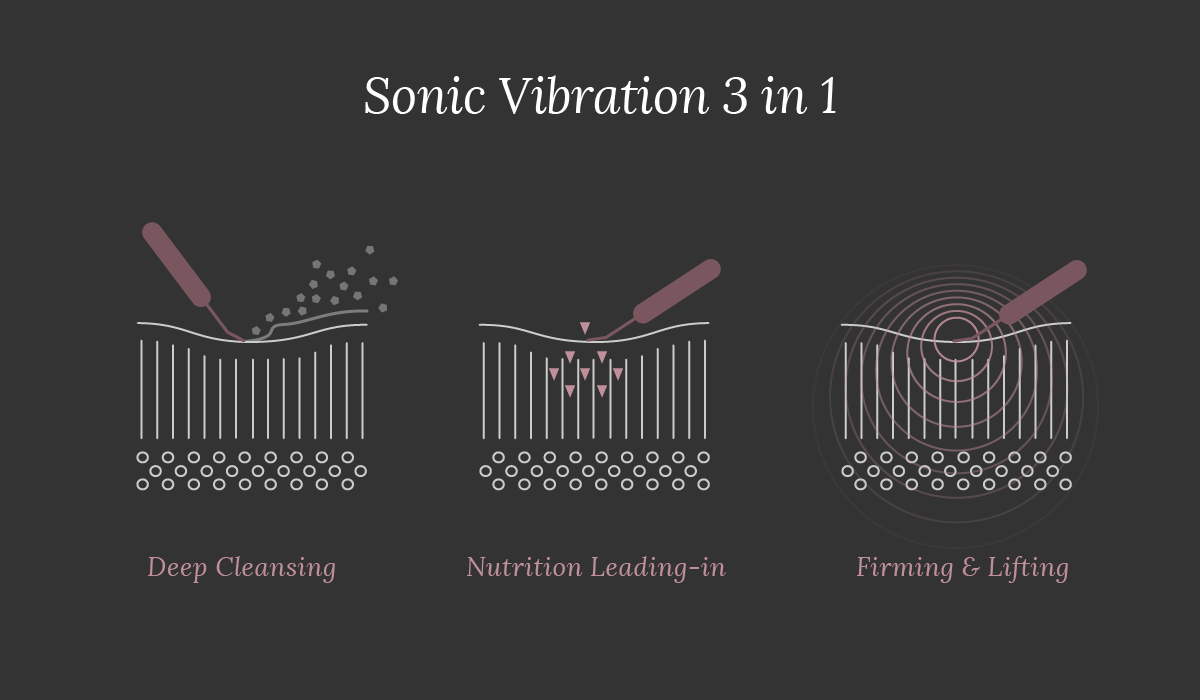 Try sonic vibration at home
As a holistic, non-invasive skin cleansing and exfoliation system, sonic vibration is among the most affordable technologies out there. In addition to ensuring healthy and clean skin, sonic also exfoliates the skin, removes blackheads and also improves the appearance of puffy or tired eyes.
If you're hoping to reduce eye puffiness and dark circles, try The/A Magic Eye Roller with Heat Therapy. This pen-size eye roller boosts blood circulation and collagen production to improve the appearance of your eyes.
TouchBeauty Ultrasonic Skin Scrubber is one of the most efficient tools to exfoliate. It not only removes grease and blackheads to ensure impurities don't clog pores over time, but has also been shown to reduce pore size over time.
For a mix of cleansing and firming benefits, PMD Beauty Clean - Silicone Cleaning Device harnesses SonicGlow technology. This handheld device vibrates 7,000 times per minute and provides a full spectrum of cleansing options.