In our mental checklist of areas to treat for signs of aging, we often pay more attention to the face and skip out on important areas like the neck, chest, and hands. As a result, these forgotten yet equally sun-exposed parts of the body continue to develop signs of aging, unhindered. There's a reason why the neck, chest and hands tend to betray one's "real" age – and that's because they're usually the parts that receive the least love! Thankfully, there are ways to change up your daily lifestyle habits and skincare routine to stay glowing and youthful from tip to toe.
Related: Retinol for Wrinkles: the Miracle Anti-aging Ingredient
Neck wrinkles
Believe it or not, your regular habit of scrolling through Instagram on your phone can be contributing to the appearance of deep-set neck lines. Combined with the natural process of aging and repeated sun exposure, your daily activities can deepen your neck lines from repeated creasing movements. Other factors for neck wrinkles that can be easily remedied once acknowledged, include smoking, bad posture, and sleeping positions.
Often referred to as "tech neck", the phenomenon of deep neck wrinkles from craning over screens is becoming a widespread phenomenon among people in as early as their early 20's. To prevent and treat existing neck lines, it's important to extend the area of your facial antiaging skincare application down to your chest. This ensures that the skin of your neck receives the proper hydration it needs to restore plumpness, as well as vital ingredients to regenerate skin cells.
Deep lines are hard to eradicate even with lasers, so we recommend regularly using neck masks for a direct hit of essential skin hydration boosters such as hyaluronic acid, vitamin C and collagen. Massaging the area with Gua Sha techniques is effective for improving the circulation of stagnant blood and oxygen, an age-old remedy that reduces the appearance of fine lines and wrinkles.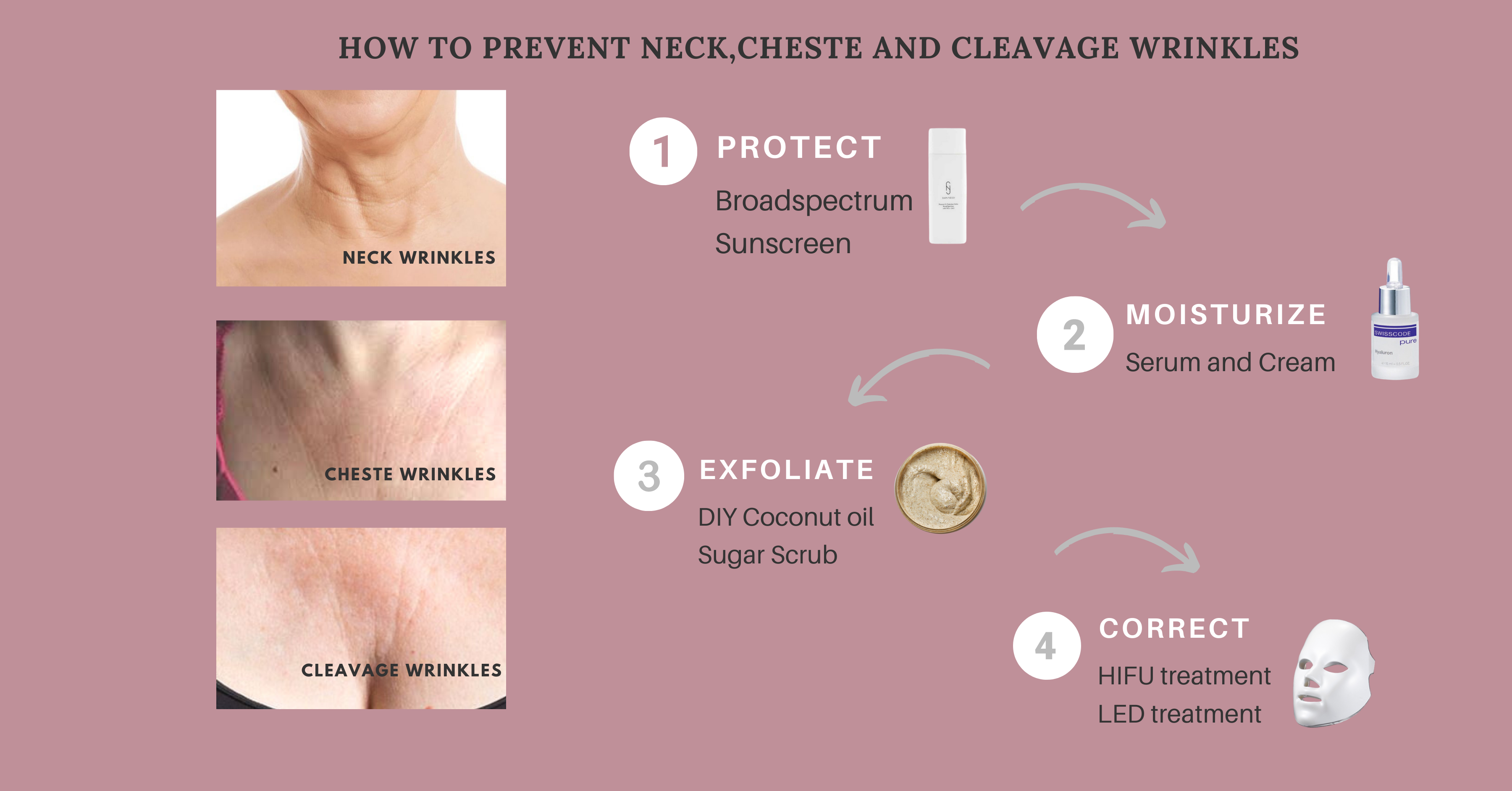 Décolleté / Chest wrinkles
As we age, the collagen and elastin in our skin continue to break down, making it harder for the skin to bounce back once damaged by environmental factors. The décolleté, or the skin under the neck, along the shoulders and between the breasts, is one of the most noticeable sites of age wrinkles. This is because the skin that runs from the neck to the chest is extremely thin, with very little subcutaneous fat cushioning the area, fewer oil glands, and limited melanocytes to protect against UV rays. With its direct exposure to the sun's UV rays, the décolleté is at high risk of developing sun burns.
As well as duplicating your current facial antiaging skincare routine for your neck and décolleté, we recommend modern non-invasive therapies such as LED Light Therapy and HIFU to tackle chest wrinkles. LED Light Therapy activates the skin's natural healing processes to repair skin by using various wavelengths of light. If you're worried about wrinkles the Red Light wavelength (830nn) acts on fibroblasts in the skin to boost collagen production. On the other hand, HIFU harnesses the power of ultrasound to tighten saggy and wrinkled skin on the neck and chest, by sending fractional waves of energy deep into the skin layers to trigger collagen production.
Related: How to Prevent Aging in Today's World of Innovative Beauty Technology
Hand wrinkles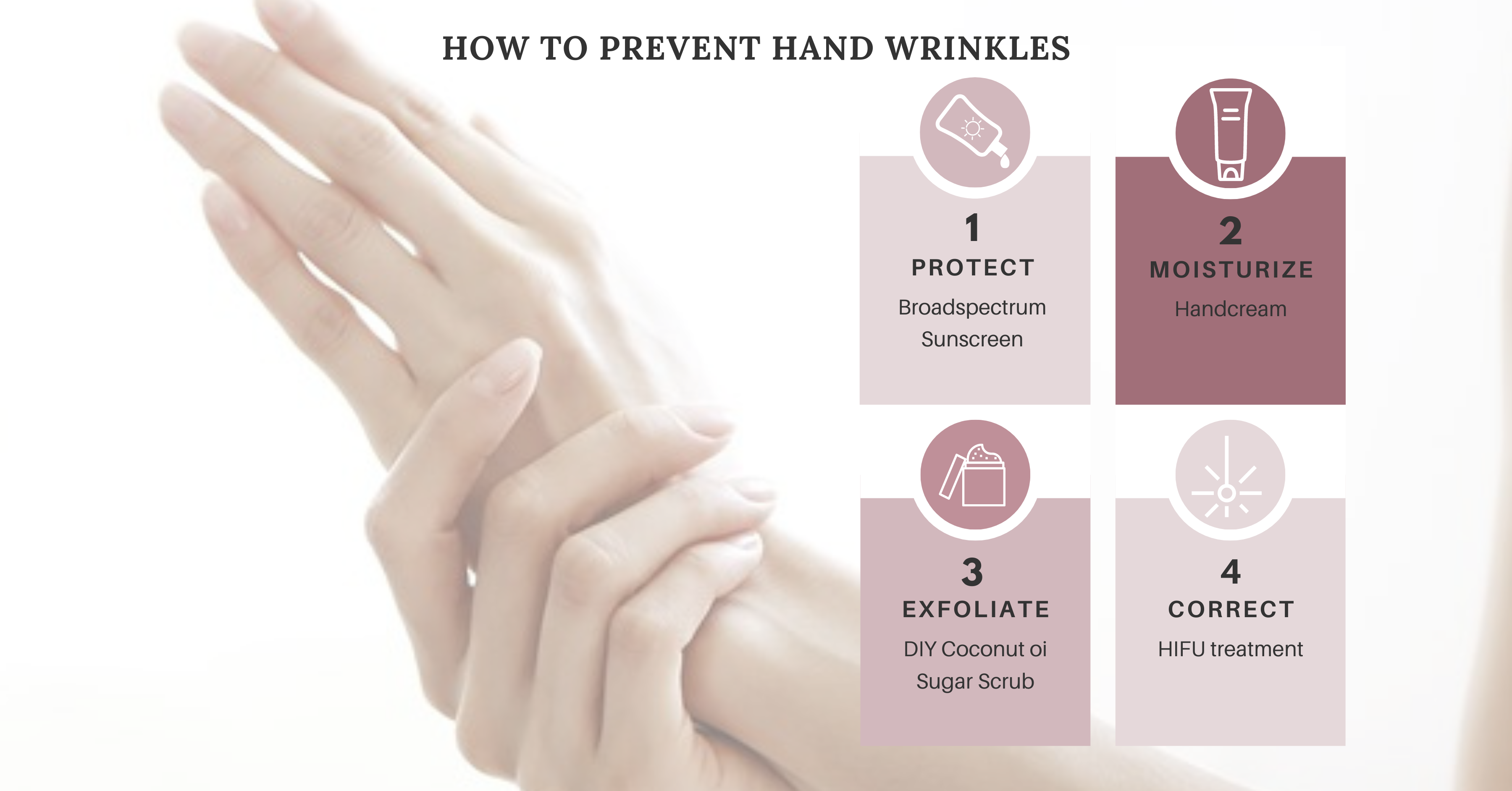 Did you know that you should be applying (and re-applying) sunscreen regularly on your face, neck, chest, and hands? Now with the added daily use of harsh hand sanitizers throughout the day during #COVID19 times, our hands our subjected to all kinds of harsh, drying chemicals. This speeds up the aging process greatly, as the skin on our hands is particularly thin and delicate.
Radiofrequency (RF) is a safe and effective at-home treatment for improving the appearance of moderate to severe hand wrinkles. Radiofrequency energy induces dermal heating to an optimal temperature, resulting in collagen contraction and triggering the skin's wound-healing response. RF's famous skin plumping effect is especially great for the hands, which are prone to losing collagen and fat more quickly and can result in a sunken, bony, and veiny appearance.
The bottom line is this: your face doesn't end at your chin – in fact, it extends all the way down your neck and chest! Care for your hands as you would your face, and you're well on your way to defeating the full spectrum of noticeable signs of aging. Remember, SPF 30+ sunscreen is your skin's best friend. Once you've made it a habit of wearing sunscreen every day and re-applying every 2-3 hours, you've secured your skin's first line of defense against age wrinkles — the rest is in your hands.