No longer are surgical facelifts and painful Botox jabs the only ways to fight wrinkles and skin laxity – modern beauty technology has assured us of that. Some of our favorite non-surgical antiaging innovations are Thermage and Ultherapy treatments, which offer some of the best-value and long-term solutions for common aging signs.
These FDA-approved skin rejuvenating miracle treatments are typically performed at beauty salons and clinics, but now comes the best part: RF and HIFU can be done safely and just as effectively in the comforts of your own home, with devices designed specifically for home use. With the "new normal" well under way, beauty trends like these are adapting to the times and becoming ever-more accessible for everyone.
While we can't turn back time, regular sessions of RF and HIFU can give the illusion of slowing it down. Before you jump on the bandwagon, we advise first identifying your main aging skin concerns and find out whether these treatments are suited for you.
What is Thermage?
Thermage uses an FDA-approved antiaging technology that combats fine lines and wrinkles, sagging skin, cellulite, and under-eye bags with patented monopolar radiofrequency energy. It heats up the dermal and subcutaneous tissue to the optimal temperature of 65-75 degrees Celsius while controlling the epidermal temperature at 45 degrees Celsius through cryogen. The induced heat triggers the formation of new collagen in the skin's deep tissue, reaching up to 3mm beneath the skin in an "outside-in" treatment effect.
Thermage is preferred to other forms of RF treatments, as the outer cooling effect is much more comfortable on the skin. Because of the gentle nature of the treatment, Thermage can be applied to more sensitive areas such as the skin around the eyes to treat under-eye bags, crow's feet, or drooping eyelids.
What is Ultherapy?
Ultherapy uses FDA-approved and non-invasive ultrasound technology to tighten and lift aging skin. The targeted ultrasound waves reach a depth of up to 4.5mm beneath the skin, creating micro-wounds in superficial skin layers via heat to stimulate collagen production. Ultherapy works on the "face-lift" layer of the skin called SMAS, which is the subdermal layer of skin right above the muscle that gets re-contoured during a surgical face-lift.
Ultherapy is commonly applied to areas where skin sagging and wrinkling are more noticeable with age – this includes the neck, jawline, upper chest, and even the backs of hands for fine to deep wrinkles.
RF & HIFU home-use devices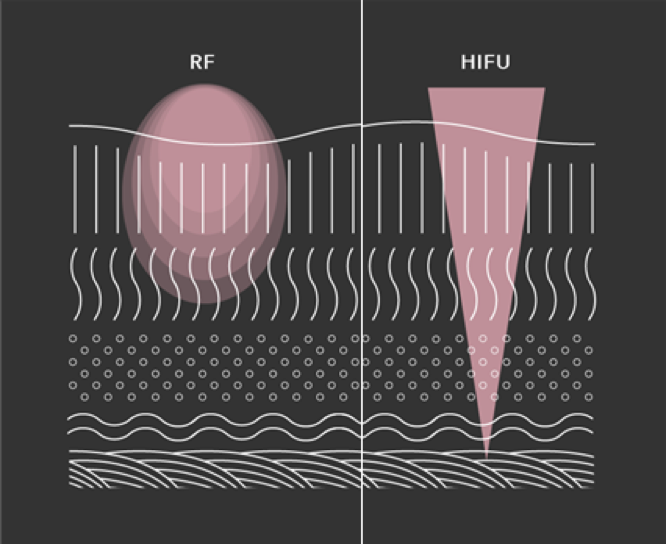 Thankfully for all the homebodies out there, technological advancements have made it possible for us to perform RF (radiofrequency) and HIFU (ultrasound) treatments with handheld tools at home. While home-use devices require more frequent usage to achieve desired antiaging results, we prefer them for the more comfortable application, convenience, and economical value over wallet-busting salon visits. Ultimately, clinical-grade antiaging results can be achieved with a bit more patience and consistency.
An example of an RF home-use device is Tripollar STOP, which uses radiofrequency waves to improve skin wrinkles, laxity, and overall texture. The advised usage is 2-3 times per week (once every other day) for 6-8 weeks, and then once every 2-4 weeks to maintain long-term results. Each session should last approximately 15-30 minutes, and it's important to leave some time between treatments to allow the skin's natural process of collagen and elastin renewal to take effect.
A popular HIFU home-use device is Attibe Ultralif 3, which should see visible lifting results from the very first application. As with most home devices, the level of intensity is adjustable, and should be at a setting that feels comfortable yet with a tingling, non-painful sensation. HIFU requires the application of ultrasonic moisture gel before use, and a good hydration mask or moisturizer post-treatment. The recommended use is once every 28 days, as the regeneration of collagen and elastin will take time.
It's possible to combine RF and HIFU for dual antiaging effects, but we advise using them individually first to observe how your skin responds to each treatment. RF and HIFU are not suitable for those who are pregnant or breastfeeding, or patients with heart disease.
RF

HIFU

Same?

Home-use devices
(examples)

TriPollar STOP

Attibe Ultralif 3

No

Purpose of treatment

Skin antiaging

Skin antiaging

Yes

Treatment result

Plumping, tightening
Treat wrinkles

Lifting, tightening
Treat wrinkles

Yes

Type of energy

Radiofrequency

Ultrasound

No

Mechanism

Bulk Heating strategy

to stimulate
collagen & elastin growth

Precise and intense fractional

ultrasound energy to stimulate
collagen & elastin growth

Yes

Depth of penetration

By technology

Up to 3mm
beneath the skin

(dermal layer)

TriPollar STOP reaches

1-2mm

Up to 4.5mm

beneath the skin
(SMAS/fat layer)

Attibe Ultralif 3 reaches 2.5mm

No

Key treatment areas

Undereye wrinkles/bags

Droopy eyelids
Decolletage wrinkles

Saggy abdomen

Cellulite on thighs

Forehead wrinkles

Drooping cheeks

Saggy jowls

Double chin

Wrinkled hands

No

Sensitive areas

Yes

No

No

Treatment time

15-30 minutes

30-40 minutes

No

Frequency
for home use

Once every 2 days

Once a month

No

Pain / Sensation

None / Warmth

None / Tingling

No

Need conductive gel?

Yes

Yes

Yes

Downtime

None

None

Yes

Expected onset of results

of Home device

Gradual improvement

few weeks to 6 months
post-treatment

with regular use

Immediate lifting,

gradual improvement

few weeks to 6 months

post-treatment with regular use

Yes

Duration of effects

of Home device

Long-lasting

Long-lasting

Yes
Related: RF vs HIFU: What's the Difference?
Tips on which treatment to choose:
Collagen and elastin begin depleting at a rate of around 1-2% every year starting from your mid-twenties, so based on that harrowing piece of information, we'd recommend starting HIFU and RF treatments early to stay ahead of the antiaging game.
HIFU is highly effective for tightening and lifting the lower face and jowls, under the chin, neck, decolletage, and body, and the best candidates typically have mild to moderate skin laxity. The result is focused, multi-layer skin tightening over a long term. Delicate areas such as the eyelids and Adam's apple must be avoided.
RF isn't the advisable treatment for those over 50 years old, or with a lot of fat and/or slack muscles. For suitable candidates, RF offers a world of antiaging benefits, treating facial wrinkles, undereye wrinkles, and larger areas on the body such as the abdomen and thigh. RF radiofrequency waves aren't as "guided" nor as deep-reaching as HIFU – but can cover a much wider area of skin.
RF and HIFU are the future of skin rejuvenation. Zero downtime aside, the best part of these treatments is that the condition of your skin will keep improving with time.