There are over hundreds of beauty gadgets available in the market, from face lifting, IPL hair removal, to HIFU and microcurrent therapy. It might seem overwhelming to try to decide which does what and how to choose a suitable device and/or technology for you.
Related: How to Choose the Perfect LED Mask?
Here are a few important things to consider:
Your overall objectives
This will determine which technology or combination of technology would be best for your goals. Whether your goal is to remove wrinkles or to compliment your existing skincare regime, it is important to identify them first.
Your budget ranges
The price range of different brands may vary, even if they are using very similar technology. Based on its size, power, design, material used, rechargeable batteries or its accessories, brands differentiate themselves from some of the more commoditized technologies.
Time required for each treatment
Many beauty technologies would be able to achieve very similar goals, in this scenario, it is important to consider the time commitment for each of the treatments. At the end of the day, you need to ask yourself how you would be able to incorporate the treatments into your life.
4. Treatment frequency
Some beauty technology requires more frequent treatments and some less. Similar to the point above, you need to decide whether you are able to do a treatment on a daily basis or a monthly basis. Some devices have longer lasting effects and thus require less treatment in a fixed period of time.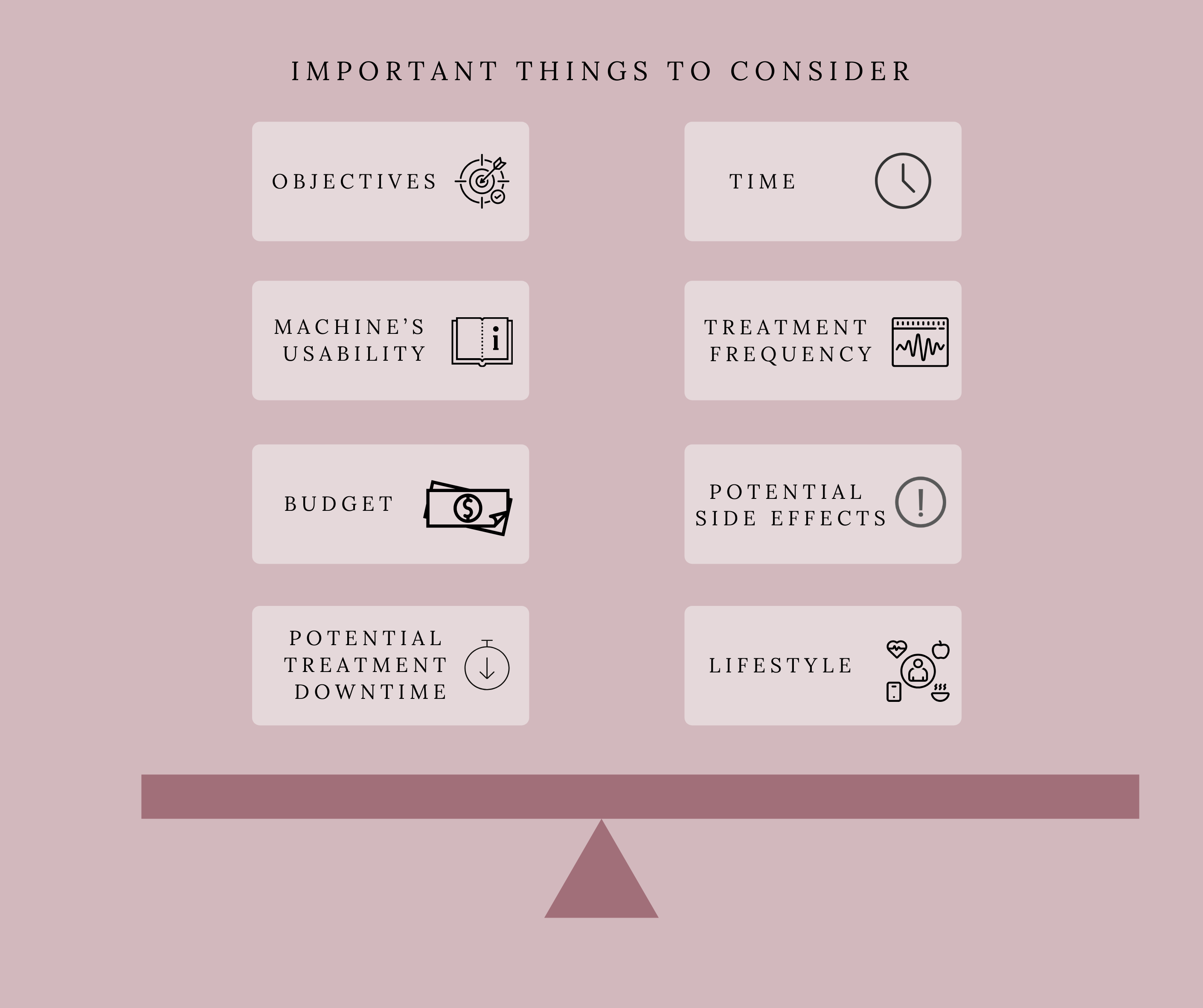 5. Your lifestyle
Your lifestyle will dictate how successful you are with upkeeping your self-care regime. For example, if you are a frequent business traveler, having a handy home-use device that's easy to travel with would probably be an ideal alternative to a facial appointment and a perfect companion to combat dry skin.

6. Potential treatment downtime
Most of the home-use devices have zero or almost no downtime, unlike some of the semi-invasive or clinical treatments. In some cases, users may experience redness and dryness depending on which beauty technology or device you've opted to use. However, nothing a sheet mask and a good night's sleep won't fix.


7. Potential side effects
Always check whether there are any potential side effects and/or any conditions that you might have that makes you an unsuitable candidate for any particular beauty technology. Generally, pregnant women are not recommended to use any of these machines. Always consult your doctor if you're unsure.

8. Machine's usability
How user friendly is the machine. You will be operating this machine yourself at home, thus it is important to get a feel of the machine, get a demo on how to use the machine and tips on technique if possible.