1. Tell us a little bit about yourself.
Originally from Berlin, Germany, my husband I moved to Hong Kong 5 years ago. We had fallen in love with the city, the people and the food many years prior but it took a while to align our life paths accordingly to be finally able to move to this amazing city. The city either can drive you nuts, or it pushes you to be the best version of yourself. For me the latter applies. The idea for my company BloomMe came from my frustration of not being able to conveniently find good quality spas and salons in Hong Kong. Most of the spas and salons that could be found online were expensive and the quality inconsistent. Being new to a city such as Hong Kong usually leaves you clueless in where to go, besides the ultra luxury Hotel spas. I thought it would be a great idea to gather all high quality spas, including all the hidden gems Hong Kong had to offer, together in one app and make booking them easy, safe and convenient. Feeling empowered to book beauty appointments any time, fast and in a user-friendly booking process across Hong Kong, is a great thing for busy women such as me. Everyone deserves to get beautified and pampered from time to time.
2. What are your beauty regimes?
Might sound a bit weird, but I consider my one espresso every morning part of my beauty routine. It makes me happy and in my opinion happiness is a key "secret" to beauty. My favorite cosmetic brand these days is Aesop. I love their concept and their products are the best fit for my skin (mid-30s skin which needs moisturizer and lots of it). I'm also mixing their products with some other amazing beauty essentials from brands such as Glohs and FRAME. Currently can't live without the FRAME Face Cleanser! My beauty regime is pretty much the same day and night. I always start with applying Aesop's Lucent Facial Concentrate serum, that's an essential. Second step is FRAME's eye cream and then finishing up with a toner from Aesop and a little bit of their In Two Minds Hydrator. As Hong Kong gets pretty humid, I sometimes don't use the hydrator and just stay with serum and toner too avoid oily skin.
Being a co-founder of BloomMe, HK's beauty booking app, surely helped to understand how important it is to take care of your skin. Therefore, I book a cleansing and hydrating facial at least once per month. Without a doubt, my favorite Spa for cleansing facials is Melomist Spa. It's the only spa I know of where they also take care of milia removal. For hydration I usually book the moisturizing facials at Mind Nature Art Beauty Spa, a hidden gem in Central, using organic products. Whenever I have an event where I really want my skin to be radiant and glowing, I'll book a RF facial, my favorite RF facial is the one at Levo Spa in Central. Every other weekend, especially after a night out, I'll do a mask at home.
3. What is your beauty secret?
Something I started recently is to massage serum and moisturizer into my skin. The face massage helps my lymphatic system to reduce swelling and dark circles around the eyes. Hannah Bronfman, a wellness blogger from New York, was my inspiration here, she swears on it.
4. What are your must-have beauty products?
I just LOVE my Aesop Lucent Face Concentrate Serum. Having combination skin, it really helps to avoid getting oily skin during the humid HK summer months and still have hydrated skin.
I'm a big fan of trying out new spots, especially for Manis and Pedis. There are so many great nail salons in Hong Kong which provide excellent service, amazing nail art and colors to try out. That's why I love BloomMe so much because with the app I can see user reviews and find a new cool place for my next mani and pedi. On the other hand, I'm pretty particular with my hair and therefore I always book haircut and coloring with Emmanuel F. It's a unique salon in HK, as they are truly and authentically dedicated to organic products and lifestyle.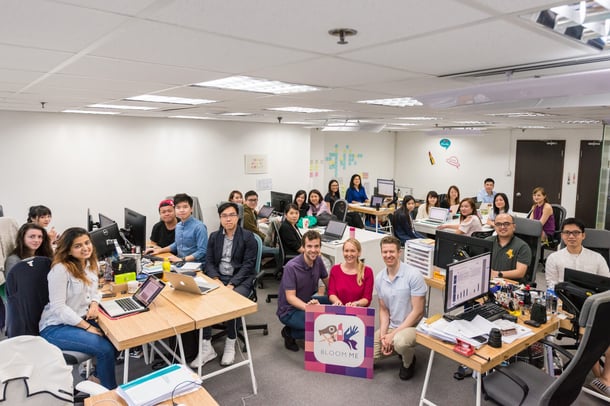 5. How do you achieve work-life balance while keeping up with self-care?
My daily espresso plays a big part in it 😉, as silly as it might sound. I just love that moment to myself every morning. It's a moment of stillness before the daily dose of crazy busy HK life starts. Aside from that, working out helps too. I try as much as I can to overcome my inner weaker self and either go to a yoga class in the morning or my gym to work out a bit. Might not be the most healthiest thing, I know, but I do think that emotional eating sometimes helps too. A slice of cake or a pasta for dinner does the trick of work-life balance too from time to time.