1. Tell us a little bit about yourself.
Founder of Zynthesis, Co-Founder at lotsofyoga.com
I was born and raised in Hong Kong. I started Zynthesis, a branding and marketing agency, two years ago. Our clients span from retail, lifestyle, food & beverage, property to asset management companies. I am very passionate about branding, design, user experience and digital marketing. I came from a marketing & PR background for luxury brands, such as Carven, Anya Hindmarch, and Net-a-porter.
During my time at Net-a-Porter, their founder, Natalie Massenet, inspired me as a pioneer who blends commerce with fashion editorial incredibly successfully. Now I build brands with content strategies to help them differentiate and grow. Ultimately, I enjoy creating brands and content that are fashionable, modern and relatable.
2. What are your beauty regimes?
My morning beauty regime is quick and easy. I use cold water to clean my face, then apply serum, moisturizer, and BB cream to protect and enhance my skin. I am a huge fan of Korean brands. I then finish my regime with a big glass of warm water and vitamin supplements, as once I get to the office, I tend to be too busy and forget to do both.
My night routine includes applying a face mask after shower at least 3 times a week. In terms of my favorite masks, I am currently obsessed with Supermud from Glamglow, sheet masks from Dr Jart, and milky drenched mask from Clarins. After washing off the mask, I apply serum and moisturizer as usual.
I exfoliate my skin quite often, at least two to three times a week with different kinds of scrubs including organic honey with plant granules for body, and sea salt cleansing foam for face.
On a monthly basis, I visit the CLINIC for facials, as they have wonderful customer service and effective tightening treatments which I love. My regular facial is their signature Hydrafacial treatment. My skin always looks fresh and rejuvenated after their treatments.
Another important aspect of my routine is that I try to go to a yoga & detox retreat as far from the city as I can every year. It is important to schedule some self-care time so I can recharge and restore my energy. I found retreat with a focus on juice-fasting program with intensive yoga sessions the most effective. My last detox trip lasted for five days (I wish it was longer!), during which I completely cut off caffeine and unhealthy food which was nearly impossible if I was in Hong Kong. I hope to stick with this ritual and plan a detox trip this summer again!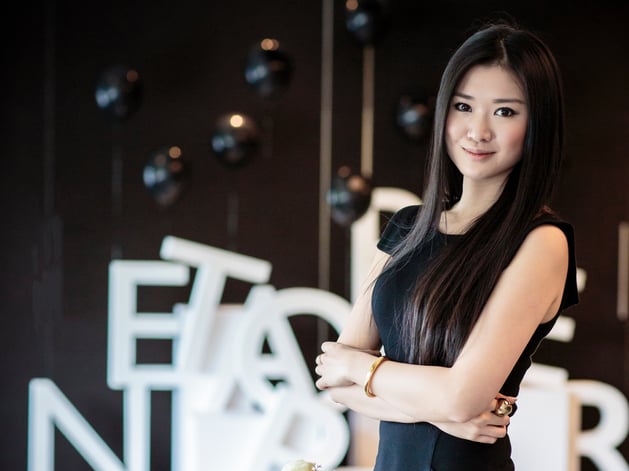 3. How do you define success?
Success to me is achieving my goals while balancing the strive for personal freedom, be it finding time to see the world or learning. Also important is to learn how to be happy while pursuing my dreams and enjoy the process, as well as learning how to juggle different priorities in life.
I feel most empowered when women join forces to help each other. Every year in March, I work with numerous non-profit advocacies to launch 'Sheer Annual Bra Drive', a bra recycle program. This program supports underprivileged women who are victims of poverty, sex trafficking and crisis pregnancy across Hong Kong and Southeast Asia. It's always a pleasure working with all our community partners and sponsors.
I love being inspired by people, especially my mentors. I enjoy working with my amazing partners and colleagues who work hard towards the same goals. Seeing my own business expanding and achieving successful projects for my clients also give me a huge motivation to do even better. I believe positive energy and compassion are contagious. I learned that it's important to share happiness and positivity around you. Sometimes I do get overwhelmed with stress when multitasking, so having a few minutes to meditate and to recenter is crucial.
4. What is your beauty secret?
My beauty hack is to put coconut oil mixed with vitamin E oil on my neck before I go to sleep to help prevent neck wrinkles. I even put some on my feet and wear socks when I go to bed just to keep my feet looking the best! Best tip for ladies who love wearing high heels. I also do yoga at least once a week.
5. What are your must-have beauty products?
Coconut oil for hands, cuticle, hair, neck.. pretty much everything! I cannot live without Bioderma, the best makeup remover. My current must-have beauty gadget is the Caternap Nano-technology silk eye mask, not only does it block out the light that enables deeper sleep, it also contains anti-aging essence that infuses into my skin while I am sleeping.
6. In your opinion, what makes one beautiful?
Beauty is how you feel about yourself, and I believe intelligence and compassion makes one beautiful. Ultimately, it is the substance and energy coming from within that sparks true meaningful beauty. And each of us has our own journey in discovering what help us feel the most confident, and that will allow the inner beauty to shine through – self-love is the key!